KA: The art of sending.
RA: To the Gods in heaven.
TE: Others with your fists.

KA-RA-TE ~ (singular) The art of sending others to the Gods in heaven with your fists
Vlambeer presents KARATE (WITHOUT ACTUAL RESEARCH INTO KARATE), a one hour (and fifty-seven minutes) project we did to fight our inner boredom.
Do not try any of this at home. A real karateka takes years to practice and hone their karate skills, or so we would like believe. To become a karateka, please mimic the animation at the top of this page until the ways of karate are clear to you.
TO THREAD THE PATH OF THE KARATEKA, DOWNLOAD KARATE SIM (WITHOUT ACTUAL RESEARCH INTO KARATE) BY FOCUSING YOUR MOUSE OVER THIS TEXT AND CHANNELING YOUR STRENGTH INTO YOUR LEFT MOUSE BUTTON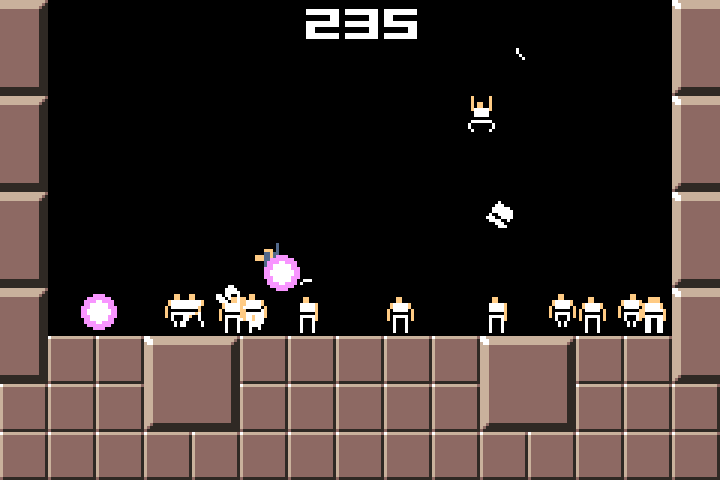 Focusing your inner strength and calmth:
Arrow keys to move
Z: Punch
Z + Up: Uppera-Kuttu
Z + Down: Eartha-Shattaru
X: Jump
Killing enemies increases the score you receive when you punch someone to the Gods in heaven.
Additional information
A tribute to what we believe karate is all about, this game is about the art of punching people into the skies. Karate, we assume, is all about internal strength, calmth, focus and external destruction, annihilation and bullet dodging.
Karate is about trusting your senses, and we therefore did no research into karate and trusted our senses when creating this accurate representation of karate - or at least, in our humble opinion it is.
During Jan Willems punching of the keyboard while working on the game, the 'i' button on his keyboard did not withstand his furious fury. We dedicate this game to his 'i'-button.